Campus Location:
Walton County
Division
Business, Industry, and Technology
The curriculum includes instruction in recipe and menu planning, preparing and cooking of foods, supervising and training kitchen assistants, the management of food supplies and kitchen resources, aesthetics of food presentation, and familiarity or mastery of a wide variety of cuisines and culinary techniques. The program emphasizes a combination of culinary theory, safety and sanitation, nutrition, and practical applications necessary for successful employment.
Diploma students are eligible for the Certified Culinarian (https://www.acfchefs.org/ACF/Certify/Levels/CC) designation. Graduates from our program can go on to work at places such as luxury hotels, restaurants, resorts, country clubs, entertainment centers, or open their own business. Possible job opportunities include positions such as:
 Executive Chef
 Restaurant Management
 Personal Chef
 Restaurant Owner
 Food and Beverage Service
 Catering
 Sales and Marketing
 Food Supplier
 Entrepreneur
Specific Facility, Tools Or Educational Tools Available
All Culinary courses have lab components where students can gain hands-on experience preparing various foods and cuisines.
Formal Articulation Agreements
We do not currently have any formal articulation agreements for this program. However, some students do contine their education at other college and universities. If you have questions about transfer eligibility, please reach out to the program chair.
Featured Courses
CUUL 1220- Baking Principles / CUUL 1129- Fundamentals of Restaurant Operations / CUUL 1370- Culinary Nutrition & Menu Development
Class Times Offered:
Daytime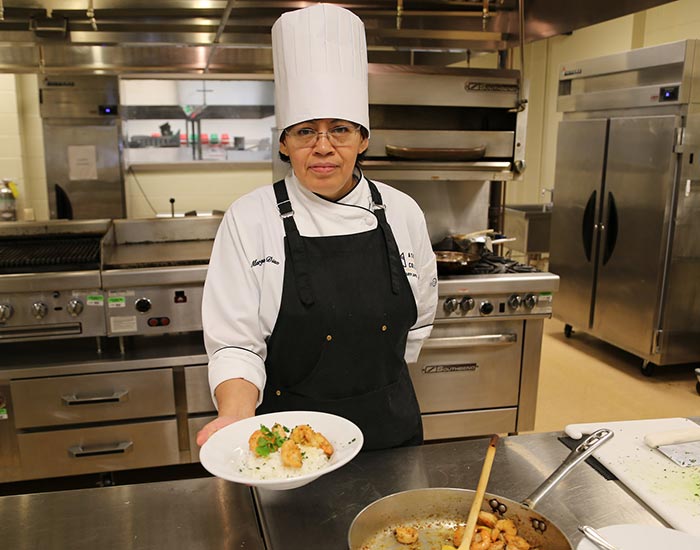 Christina Wolfe
Dean - Business, Industry & Technology
Get More Information About
Culinary Arts